No. 1: e'grand Co., Ltd. and Tokyo Verdy
To all the partners of Tokyo Verdy who have been supporting our club in various ways for your own special reasons: We hope to go beyond the relationship framework we have had with our sponsors, and build a community in the future where the club and our corporate partners can walk hand-in-hand together.
This project, entitled "ONE FLAG: Creating new value with our corporate partners," allows comrades of the Verdy family to gather and discuss their thoughts and feelings about the future. In this way, we can share our ideas with one another and look towards a future that we can build together.
The first installment of this series features e'grand Co., Ltd., our partner whose logo appears at the back hemline of the Tokyo Verdy uniform.
Joining us for this interview are: Mr. Masayuki Tanba (in the photo, center), Director of e'grand who dreamt of being a J League soccer club's sponsor after transferring to his current company, and Mr. Yudai Suzuki (in the photo, right) of Tokyo Verdy's partner sales department, who was appointed to be in charge of e'grand's account before entering the company, and who, coincidentally, also happens to be Mr.Tanba's junior from Kwansei Gakuin University.
Our facilitator is Mr. Taito Yagihara (in the photo, left) of re-trigger Co., Ltd. also one of Tokyo Verdy's corporate strategy partners. He will be interviewing them on what made them become partners of the team, its impact, and their visions for the future.
(Name honorifics are omitted going forward)
Revitalizing the used housing renovation business and Verdy
Yagihara: Thank you for being here today! I think it would be nice if the club and its partners can go beyond their typical relationship so that they can unite in order to mutually enhance each other's value in the future. Our initial step to achieving this is having a series of interviews for the club and its partners. This is the first one.
I think even our supporters might not know about our club's corporate partners very well, so shall we begin by talking about this?
Tanba: We call ourselves the used housing renovation business. To put it simply, we buy old used houses that are not in the best condition, and then renovate them to become suitable for sale. We have been doing this since renovation became a trend, and we sell about 1,000 houses annually.
Yagihara: This may be somewhat similar in context to the revitalization of Tokyo Verdy.
Suzuki: This season marks the 6th year since e'grand became our sponsor. Back when things just started, it was a really tough period, so there were probably some similarities between us at that time.
Tanba: I'm not sure if we offered that much support at that time, though (laughs).
Yagihara: This all dates back to season 2014. So, how did you become a partner?
Tanba: Our company got listed in JASDAQ on December 2013. At the time, we wanted to be a company that could contribute to the local community rather than just be one that does the bare minimum of paying corporate taxes and hiring people.
The truth is, from the time I transferred to e'grand, I've wanted to someday get involved with J League. As such, when our company got listed, I raised such a proposal during our directors' meeting. In J League's 100-year-plan, there was a slogan that stated, "making Japan a happier country through sports." So I mentioned that the idea of us contributing to the promotion of a sporting culture should be focused on a club with its roots firmly in the region.
Yagihara: I see, that sounds like a great idea. Then, how did you come to select Tokyo Verdy among the other options available?
Tanba: Besides the fact that e'grand is also located in Tokyo, the biggest reason would have to be the fact that the club was the most troubled at that time. I actually didn't like Yomiuri FC (laughs). It's not in my nature to support the side which has traditionally been strong, and Yomiuri was doing extremely well at the time.
I still think the same way now. Given our company's financial power, there wouldn't be much of an impact if we were to become a rich club's sponsor, and we wanted to help a club which was really struggling.
When we went to watch Tokyo Verdy's practice session, Satoshi Tsunami (current manager of Briobecca Urayasu) who was the coach at a soccer school at the time, gave such a thorough introduction that we made up our mind right on the spot.
Yagihara: By the way, I think that this will be a good reference for companies who are also thinking of becoming sponsors, but how did you get approval for the sponsorship from the company, particularly the support of those who don't know much about soccer?
Tanba: As mentioned earlier, one way was to make people identify with the ideals of J-League so that they would be willing to lend their support. Another thing we did was to start off with a small budget. More specifically, the sum of JPY 10M was about the price of a single used property we acquired, so it was easier to get people to visualize the size of the investment through this analogy (laughs).
Yagihara: So, this started off like a trial! What were your expectations of Tokyo Verdy at the time?
Tanba: To be honest, it was more of self-gratification in the beginning. We wanted to be of help to Tokyo Verdy in one way or another at the time.
Yagihara: I see. From then on, you have now become their uniform partner. So how did things change along the way?
Tanba: We began to make serious efforts after a few seasons. Although our company's name also appears on the uniform of the women's football team Nippon TV Beleza, that only began in 2016, which was the third year of our sponsorship. As such, since we were already doing the sponsorship, the subject of increasing our exposure came up naturally within the company as well as in my discussions with Suzuki.
Suzuki: Back in 2015, the company's logo was featured in the middle of the chest on Nippon TV Beleza's practice wear. In the same year, Japan was the 1st runner-up at the Women's World Cup in Canada, so this led to many of the team's players being interviewed by the media. As a result, e'grand's logo was also seen frequently and led to more exposure for the company as well. Given that the Rio Janeiro Olympics in Brazil was due to take place in 2016, there was a heightened expectation that Nippon TV Beleza's players would do well again, but unfortunately, the women's team did not manage to earn a ticket to the Olympics.
Yagihara: It's obvious how major sporting events like this have a huge impact. I suppose that you have similar expectations for this year's Women's World Cup, then?
Tanba: We also started sponsoring the back hemline of the uniform in 2016, something new that we wanted to try.
Suzuki: As Nippon TV Beleza scores a lot of goals, the back hemline gets seen frequently, too. I think having the players gather happily whenever they score is a way of creating a good image for the company as well.
Yagihara: It is definitely good for the corporate image whenever the logo is featured! Please tell us more about your expectations of Tokyo Verdy going forward!
Tanba: Well, I definitely hope to see the team get promoted to the J1 League (laughs). Other than that, as the effects haven't manifested themselves in the figures yet, I hope we will be able to take measures that can also bring about a positive impact to the business.
To begin with, our company isn't one which conducts its business by using our own name as a selling point, so I don't think this will directly link to improvement in sales. However, lately, I feel that it has become necessary to increase awareness on the fact that e'grand is supporting Tokyo Verdy.
Connecting the company and the family through Tokyo Verdy
Yagihara: Regarding the uniform for season 2019, the color of the logo that appears on it has been standardized to gold. I believe there were challenges encountered when changing the corporate logo color; can you please tell us more about how it happened?
Tanba: Actually, changing the color of the logo wasn't the same as changing our company's name, so we were happy to go along with it as long as there is a sense of unity in the uniform.
And when Nippon TV Beleza achieved the triple crown by winning the Empress's Cup on New Year's Day 2019, our white logo on the uniform's collarbone area couldn't be seen nicely due to the sunlight's reflection. Just when we were wondering what to do about that, this suggestion for the change came at the right time. (Note: e'grand's logo also started appearing on the collarbone area of Nippon TV Beleza's uniform from season 2018)
Suzuki: We've had internal discussions in the company since the middle of last season about coming up with a uniform design that would please our supporters and partners in conjunction with the club's 50th anniversary. While doing so, we decided to return to the roots of Tokyo Verdy by changing the uniform's color from the bright green used in recent years to a darker shade used in the past, and standardizing the logo color to gold.
Just for the first-press orders alone, there was an increase of 225% in the order volume compared to the previous year. There were also more orders from corporate partners of J League. I think that it's great that the new design is supported not only by Tokyo Verdy supporters, but also by J League supporters as a whole.
Tanba: The new uniform looks cool! Until now, we haven't really heard our employees saying that they wanted the uniform, but there were many who expressed their wish to buy the new version this year.
Yagihara: As a supporter, I am happy to see that the corporate logo matches the uniform. I think it would have been a pity if the logo was laid onto a white background or was in an incompatible color.
How was the response like after you became a corporate partner?
Tanba: Ever since our logo started appearing on Nippon TV Beleza's uniform, people started coming up to talk to us. And during occasions like the hiring exercise for new graduates, we have started seeing candidates who know much about the company.
Suzuki: Tokyo Verdy will have to do its part and work harder to increase awareness as well.
Yagihara: There have been some supporters who expressed an interest through channels like social media about buying products of the club's corporate sponsors. I think that we should definitely look into implementing measures to do so in future. For starters, when you want to buy a house, consider going to e'grand!
Tanba: I think the Partners' Day also went very well because our employees were happy with it, and it was a good measure targeted at the internal audience, where employees could attend the matches and their children could become the escort kids for the players.
To be honest, we also wanted to invite the agents who sell our company's houses to the matches. However, these tend to take place during the weekend, which is a prime period to achieve sales for the real estate industry (laughs). Nonetheless, we are thinking of doing the same for them in future.
Suzuki: In the very beginning, most of the children of e'grand's employees were too young to be escort kids, so we could only gather 2 or 3 eligible ones at the time. Now, we already have 15 children lined up for this year.
Tanba: Although this is an era where the company and the family are considered as separate units, Partners' Day becomes a great opportunity for them. Regardless of whether the children are soccer fans or not, the matchday atmosphere is great whenever they join the players in entering the field, and this also helps to increase the children's enthusiasm for the sport. So, it's a good thing. The last 6 years we've been doing this have been meaningful.
A new way for partners to participate in a long-standing club
Yagihara: It has been six years since e'grand started working with Tokyo Verdy, so were there any particularly memorable episodes during this period?
Suzuki: Tanba was from the soccer team of Kwansei Gakuin University, which is also my alma mater even though I wasn't in the same team. This was also part of the reason I was assigned to be in charge of e'grand's account before joining Tokyo Verdy. There are also many players here who graduated from Kwansei, such as Akira Ibayashi and Shunsuke Mori who were here until last year, and Ryota Kajikawa who is here this year. Somehow, It seems that there is a strong connection between Verdy and Kwansei Gakuin.
I could never forget Tanba's face during the third-round match of the 2018 Emperor's Cup which featured Tokyo Verdy and Kwansei Gakuin.
Tanba: That was really a moment of supreme bliss. At first, I was supporting Kwansei Gakuin since it was a match between professionals and students, but it turned out to be such an awesome match that I found myself wondering: What would happen to Tokyo Verdy?! (laughs). I had a great time watching that match.
Yagihara: That must have been a deeply moving experience.
Suzuki: Another great moment was me being put in charge of the e'grand and QUO CARD campaign since 2015. At the time, the policy was to issue original edition QUO CARDs to those who held season tickets, but after handing them out, that was the end of it.
We also arranged for e'grand to produce items such as clear folders for matchdays, but the realization of how we couldn't tap on the full value and potential of such items once the distribution was over hit us hard.
Yagihara: So rather than for things to end once the distribution is over, it was better to come up with measures to deliver the intended value. Were there any opportunities to interact with other corporate partners?
Tanba: Of course, we did exchange greetings with one another, but there was nothing in place then for us to work with one another. We had been asked before by potential corporate partners about our opinion of Tokyo Verdy.
Yagihara: I see! So how did you reply then?
Tanba: The person who asked us about this had concerns over whether it would be difficult to enter such a long-standing club, but we reassured them that no, that was not the case at all (laughs).
Suzuki: I actually want to say that out of the 55 clubs in the league, we are probably the No. 1 when it comes to being open to exploring various possibilities. Even for those who just want to show a bit of support to us, we will still present proposals enthusiastically. It has always been the club's principle to try anything.
Yagihara: That's right. Even for our company, which has only been around for less than a year, we can participate in such a new endeavor with Tokyo Verdy. In addition, when talking to companies, the club comes prepared with not only data, uniforms, and signboards in order to discuss the placement of company logos to them, but also to discuss how to mutually enhance each other's value while making decisions.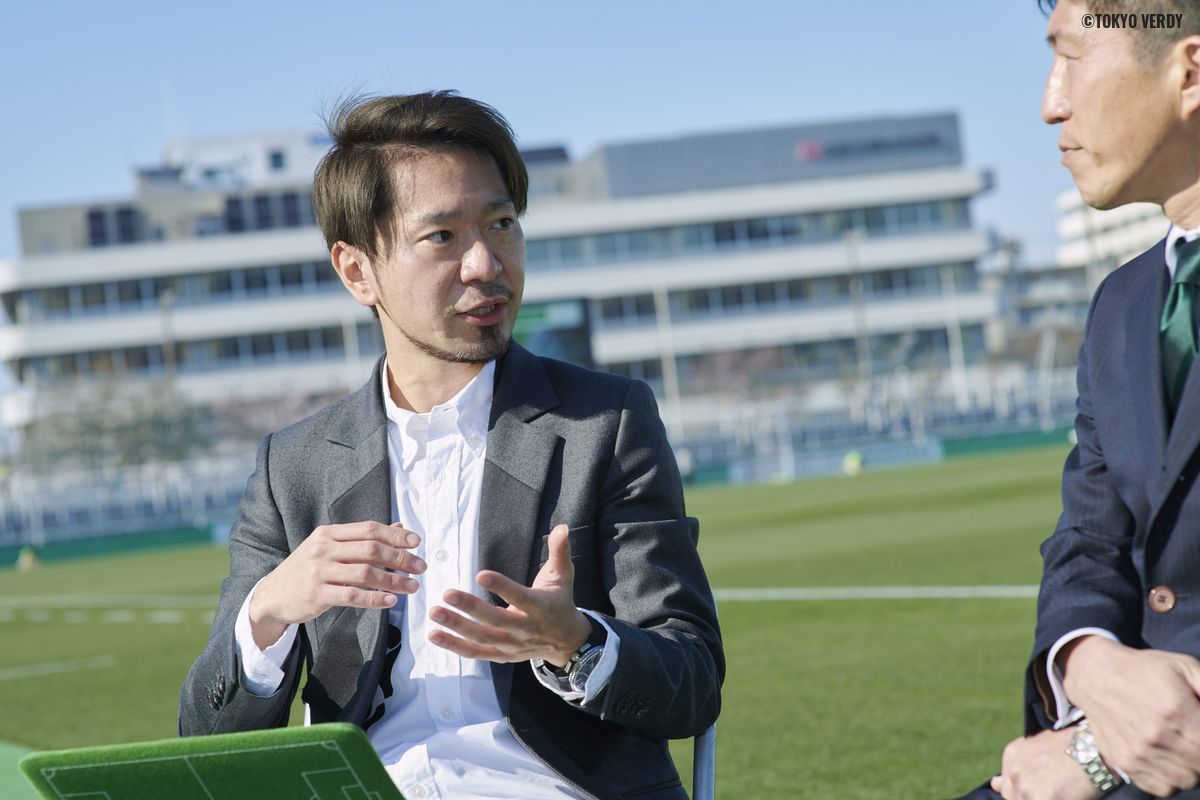 Suzuki: That's precisely the case. The sales department does all sorts of activations rather than being restricted by the usual sponsorship framework, so we can engage in any discussion to explore what can be done together!
Yagihara: I hope that companies who read this will come forward to approach the club! What does e'grand hope to achieve with Tokyo Verdy in future, then?
Suzuki: We are just at the stage of preliminary chats, but one of our discussions with e'grand is about the likelihood of renting houses for the children in the academy.
Tanba: I think it is a good idea to renovate the houses in the Tama area, where Verdy is located, and then having them stay there. This helps to bring people back to places where the population is shrinking, and increase the number of shops as well, thus helping to revitalize the region.
Yagihara: If our youth players get to be selected for the national team one day, the value of the houses they live in will probably increase as well!
Tanba: That's right, and it will be nice if this really happens. Frankly speaking, the main thing we wish to do is build a great stadium with nice facilities and a proper VIP room.
Suzuki: We have also talked about doing something together for the hardware aspect of the stadium.
Yagihara: A home stadium exclusively for soccer would be great! If that really happens, e'grand may have naming rights to it, then (laughs).
Tanba: I don't think our company can do that yet, but it will be a big dream which we hope to achieve one day.
Yagihara: Let's make that dream come true! Thank you very much for your time today!
Suzuki: Thank you very much!
Tanba: Thank you very much!
Yagihara: Once again, thank you so much to the both of you! It was great to hear about various things from Mr. Tanba, including your passion for Tokyo Verdy and the sporting world.
It has become more apparent than ever to me how important it is to have everyone come together as a family to honestly talk about expectations, past failures, and the future.
The implementation of such measures will be a good step in creating a new culture that can improve the situation in the world of soccer.
Writer: Shimon Watanabe / Photographer: Masato Ishibashi