No.5: SHOEI Co., Ltd. and Tokyo Verdy
To all the partners of Tokyo Verdy who have been supporting our club in various ways for your own special reasons: we hope to go beyond the relationship framework we have had with our sponsors, and build a community in the future where the club and our corporate partners can walk hand-in-hand together.
This project, entitled "ONE FLAG: Creating new value with our corporate partners," allows comrades of the Verdy family to come together and discuss their thoughts and feelings about the future.
In this way, we can share our ideas with one another and look towards a future that we can build together.
For the fifth installment of this series, we are featuring SHOEI Co., Ltd., who has been supporting us for as long as 8 years. Besides being the chest logo sponsor of our junior team, SHOEI has also provided support to us in areas such as reinforcement expenses in relation to sales at the stadium.
Joining us for this interview are Mr. Masaru Mori, representative director of SHOEI (in the photo, left) who has the experience of getting too carried away during a kick-in ceremony, Mr. Kunio Katsuki (in the photo, center-right) from Tokyo Verdy Club who is in-charge of SHOEI, and Mr. Masaaki Higasa (in the photo, center-left) from the partner sales department of Tokyo Verdy.
Our facilitator is Taito Yagihara (in the photo, right) from re-trigger Co., Ltd., another one of Tokyo Verdy's corporate strategy partners. The interview will be about how they became a partner, the unexpected impact of this move, and their expectations for the future.
(Name honorifics are omitted going forward)
A place with tradition needs to come out into the open
Yagihara  Thank you so much for your support today! We hope these interviews will be a good opportunity to allow the club and its partners to think about ways to mutually enhance each other's value, and come up with measures together to achieve their desired outcomes. This fifth installment features SHOEI.
For starters, I think even our supporters might not know our club's corporate partners well, so shall we begin with an introduction of your company and its products?
Mori Our company is a manufacturer of ningyo-yaki (a sponge cake in various shapes filled with red bean paste) in Tokyo. At present, we are also in the business of producing souvenirs and gifts from Tokyo, which the supporters might have spotted before in shops at train stations or airports.
Yagihara Thank you very much. You mentioned that your company is in Tokyo, and that you make souvenirs for Tokyo. Do you have any special thoughts about the Tokyo region?
Mori If we are to cite something as being representative of a place, if you mention Fukuoka, you think of mentaiko (spicy cod roe). When Hokkaido is brought up, you think of Shiroi Koibito (chocolate sandwiched between langue de chat cookies from Hokkaido). However, when you think of Tokyo, ningyo-yaki used to be the first thing that comes to mind, but in recent times, western-style confectioneries seem to have outshone it.
As we still want people to think of buying Edo matsuri ningyo-yaki first when they come to Tokyo, we have been conducting various activities to increase awareness of this product, such as giving out food samples which will hopefully help in achieving this goal.
Yagihara It would be ideal if people would naturally associate Edo matsuri ningyo-yaki with Tokyo. Can you please tell us how you became a partner of Verdy?
Mori My elder brother who was the previous president of the company, used to play soccer, so that's how we got approached to be a partner. Coincidentally, our company motto also incorporates the ideal of livening up Tokyo by becoming partners with the locality, so the decision was in line with this vision.
By working hard together, Verdy will aim to get into the J1 league, while our company will try to be the No. 1 confectionery souvenir gift shop in Tokyo. This friendly rivalry will offer the stimulus for us to achieve our goals together.
Yagihara Considering that there are a number of clubs based in Tokyo, what was the deciding factor to work with Verdy?
Mori In our generation, Verdy was synonymous with soccer. Although the team had since suffered a significant drop in its fortune as sponsors left, we were also aware of its desire to launch a comeback to its heydays.
To begin with, our company is not a big company like the J1 League, and we are also in this situation where people tend to think more of Western confectioneries rather than ningyo-yaki at the mention of Tokyo. Hence, both our company and Verdy were sort of in the same boat, so in that sense, we could understand each other.
Yagihara I see, so this means that there should be a place where tradition can come out into the open!
Mori That's right. It is imperative for Verdy to do their best in J1, and we want ningyo-yaki to do the same in Tokyo. As such, this was a huge factor in our decision.
Yagihara I am happy to hear that, thank you very much! Among all the things you have done with Verdy, you are also the sponsor for the chest logo of the junior team's uniform. May I know what led to this sponsorship?
Mori First of all, this is related to our company's concept of wanting to increase exposure of the Edo matsuri ningyo-yaki. As to why we decided to sponsor the junior generation, our target is actually their parents' generation—those in their 30s to 50s, around their mothers' and fathers' ages, rather than the young children.
Of course, our intention for the sponsorship is still to be the chest logo sponsor for a top team. When considering our target market, we thought that the junior team best matches our need to convert the exposure to brand name awareness and subsequently, revenue.
As to why we chose to sponsor the chest logo, this was because the parents would get to see it there more than in the other parts of the uniform when they wash, hang, and fold it at home.
Yagihara In terms of reaching out to the target audience effectively, I can understand very well why having the chest logo on the junior team's uniform is a foolproof strategy.
Getting close, from the junior team to the Japan National Team
Yagihara Did you encounter any resistance within the company when you decided to do the sponsorship?
Mori To be honest, there were some objections, but not when we first started. It was when Verdy wasn't doing well. Although we planned to do this for the long term, there were comments from our employees such as, "is there any point in supporting a losing team?" or, "rather than Verdy, we'll be better off spending the money somewhere more prominent, like the prize banner for sumo which would reach our main target more directly."
However, continuing becomes a form of strength, and supporting something on an ongoing basis make sense. Verdy is working hard to be promoted to the J1 League, and we are trying to make the Edo matsuri ningyo-yaki No.1 in Tokyo.
If our supporters suddenly forsake us, wouldn't that be a sad thing? If we are to pull our support just like that, it'd be the same as if we are abandoning Verdy.
Yagihara I see, that certainly resonates with us. I'm sure it must be tough for our other partners and those who are thinking of becoming partners when it comes to unifying the company in backing the decision. It's great to get an idea of how this can be done from what you just shared with us.
Let's return to the topic of being the sponsor for the chest logo on the junior team's uniform. Can you share with us any incident where the mothers have given positive feedback on your sponsorship?
Mori I didn't hear this directly, but I overheard someone asking aloud if the chest logo was from Edo Matsuri when I was at one of the matches. Regardless of the nature of the comment, as long as people notice the logo and talk about it, that is most important. I think that this will lead to more people asking about what Edo Matsuri is.
Katsuki I can't remember whether it was last year or the year before, but once, a junior team match was held before Verdy's home game at Ajinomoto Stadium, and the junior team's members were helping out at the merchandise booth. I thought it was nice of them to do that.
Mori One time, we also had the opportunity to distribute the ningyo-yaki to the players after a junior team game, and they were full of praises for it. To be honest, we never had the chance to see the children's direct reactions after eating the ningyo-yaki until then. It was at that point when we realized the fundamental issue of how children didn't even have the opportunity to try ningyo-yaki.
As I mentioned earlier, our target market is the parents' generation, but the issue is more about getting them to switch from serving western confectioneries to ningyo-yaki or senbei during break times. However, for people who don't even have the chance to eat ningyo-yaki in the first place, this encounter helped us realize that we need to focus on developing this segment as well.
Yagihara That's right! This means identifying and targeting those who don't even have your product as one of their choices in the first place. It's rare to have an opportunity to see your customers' reactions firsthand.
We have been talking about the good things so far, but it has been 8 years since you became a partner. During this time, was there any expectation you had of Verdy or how you wished the team could become?
Mori I did, but…what was it again? (laughs)
Katsuki We've always been strong at developing talent, and there have been a number of our players who were in our junior team, have moved on to join the professional team, and then got selected to join the national team. It's great to hear that there were these players who knew about the Edo Matsuri ningyo-yaki, and how they hope we will be around throughout their growth process!
Mori Yes, that's right! Being able to stay close to these players was what I intended to say.
Yagihara During the process of their growth at the academy, the Edo Matsuri ningyo-yaki was always close to them, which was exactly what you had intended initially.
After you became a partner, were there any positive outcomes to your daily sales or PR efforts?
Mori In terms of sales, this has become a starting point during our conversations with clients, so there were comments from employees that this has facilitated the business negotiations. For example, if the team won a game in the previous week, that would become the topic to kickstart the conversation.
Although there were employees who felt unsure initially about the company sponsoring a soccer team, I'm happy to say that there has been more interest in Verdy internally, especially when they took part in the J1 entry play-offs.
Yagihara So it has helped to boost communication within the company as well! Does this also apply to people who are not soccer fans in the first place?
Mori Yes, it does. Besides this, there were people who are soccer fans but never had the opportunity to speak up, such as those who are supporters of other teams. I also heard feedback that they were glad to have gone to a Verdy game.
Although this could have meant that they liked the opposing team, it was great that they were able to speak up. I think that it is a good thing for each employee to break out of their comfort zone and start opening up about things they never have before.
Yagihara That's a great trigger to change the situation. On the other hand, is there anything that you wished that Verdy would do or work harder in?
Mori Well, that would have to be getting promoted to J1 and becoming stronger. I don't have any experience in soccer, and I can't say that I am very knowledgeable about the sport. However, I would definitely like to see the team show perseverance in their play and try their best to overcome the odds even when they are losing in a game.
Even among the employees, they also noted how the team is working harder than before, and how important it is not to give up. This actually contributes to building up motivation, and as professionals, it is what the team should be showing to supporters like us.
Yagihara Absolutely. Is there anything which Verdy would want to do more for SHOEI?
Katsuki First of all, we think it is most important for us to promote SHOEI's ningyo-yaki to many places. For example, we are sharing the sponsored ningyo-yaki with our rival team during our away games.
Through these efforts, we hope there will be more people who will come to associate ningyo-yaki with Tokyo, and think about buying it when they visit.
Yagihara Bringing a souvenir from Tokyo during an away game is indeed befitting of this concept. By having more people eat the ningyo-yaki, we might be able to get more of them to become fans of Edo Matsuri ningyo-yaki!
Katsuki As for our home games, we get reinforcement expenses to sell the products. Through this, we can get both Verdy and the visiting team's supporters to buy the ningyo-yaki.
Yagihara When the visiting team's supporters buy these products to take home, these will be considered as souvenirs from Tokyo, so this coincides with what SHOEI is trying to achieve! What kind of arrangement is in place for the team to receive a portion of the sales at the stadium as reinforcement expenses?
Mori For each piece sold during a home game, the team gets 500 yen as reinforcement expenses. As to how this was decided, we were thinking initially of what we could do for Verdy and proceeded to make cookies for them.
At the time, we thought of what we could do to help to increase the number of fans, so the natural thing was for us to make confectioneries. We attached postcards with the confectioneries which the customers could write on and send to the players who could reply to thank them for their support. Hence, we decided to commit to this in order to increase Verdy's fans.
Once we started with this arrangement and it had taken off to a certain extent, we thought about what we could do next. From the viewpoint of supporters, the natural progression was the desire to make the team stronger.
This time around, when deciding on how we could come together with the supporters to support Verdy, we decided to adopt this policy of contributing reinforcement expenses in relation to the volume of sales.
Yagihara That's wonderful! It's a great example of how measures can change according to the situation.
Becoming a presence to help each other improve while maintaining a good relationship
Yagihara So did SHOEI come up with such an idea?
Mori We were the ones who proposed ideas such as getting players to write replies, and whether this initiative could contribute to reinforcement expenses before they were given the go-ahead.
Yagihara From Verdy's perspective, we are happy to get such proposals from our partners!
Katsuki That's right. Not only we are happy about this, it is very exciting to have such ideas from external sources.
Yagihara From the supporters' viewpoint, this is an another reason to buy a sponsor's product. Since this would contribute to the reinforcement expenses, it will boost the motivation to purchase to a great extent.
Mori Once we started doing this, there were supporters who would buy a lot every time they came to the games. Among them, there are many repeat customers, so it is always crowded at the booth.
Katsuki Our core supporters help to carry the signboards for Edo Matsuri which contributes to our promotional efforts. For Verdy, this can only be a good thing.
Yagihara This is not only beneficial to the business, but you also get more people to become fans, which is a win-win situation for all. Do you have an example of how this increase in the number of fans has brought about a specific benefit to your business?
Mori Besides part of the sales at the stadium going to the reinforcement expenses, we have seen an increase of 1.5 times in sales over the last two to three years, so clearly, the revenue is indeed going up.
When you look at total sales of the Edo Matsuri ningyo-yaki, despite the market conditions now, it is almost comparable to the previous year's figures. Although we cannot measure the effect in quantitative terms yet, we believe that the positive impact is sure to manifest itself somewhere.
Yagihara I feel that the positive effects have gone full circle—the figures are improving and the brand identity has become more established. It would be great if Verdy can come up with something which can deliver twice the impact next time.
Is there anything you would like to do with Verdy in future?
Mori I definitely hope that it would be something which could help in spreading Edo Matsuri ningyo-yaki to more people. Although we do distribute the ningyo-yaki when we go to the suburbs, it would be nice if we could provide the same through other methods.
Katsuki For Verdy, we will increase a new sports team in our lineup when we set up the corporation. Hence, with these efforts included, we are looking into how we can provide our help.
Yagihara To expand the range of our activities would also mean branching into other sports besides soccer. If Verdy can assist and support this area as well in future, I think it will be beneficial for all as we try to achieve our goals together.
Mori I do have a dream in that there will be more opportunities to hold press conferences when the team gets promoted to J1. We can then distribute water and our ningyo-yaki there (laughs). Just thinking about how the team manager would be munching on ningyo-yaki as he speaks during the press conference makes me really happy.
Katsuki That's interesting! Like, we can suddenly offer him food.
Yagihara That sounds good. We can leave the ningyo-yaki quietly beside his drink, although it does seem quite far-fetched. However, before that can happen, the team must get promoted to J1 first.
As we briefly touched on this topic earlier, is there any likelihood of conducting local activities in Tokyo together with Verdy?
Mori  We would certainly like to do this, so I want to think about what can be done.
Yagihara As part of our hometown activities, we can definitely hold soccer classes and perhaps have the ningyo-yaki as snacks.
However, as a company in Tokyo, it might be a good chance to expand the fanbase and get new customers if club activities can be done even at the regional level.
Katsuki That's true. At present, we hold about 300 such classes at primary schools and facilities on an annual basis, so for those who are interested in this, they will be pleased to get such delicious snacks. It would be great to do such things during these events.
Mori We would definitely be willing to take part in that! In connection to our discussion about the junior team earlier, besides the main target audience, I think it's absolutely necessary to have young children also get to know our products.
Yagihara It sounds like it will be easy to introduce food products to people. Once you bring it to them, they will be happy about it and once they taste it, they will realize how delicious it is. Let's try that!!
Do you happen to have any interesting titbits or incidents that happened during your collaborations?
Mori It's embarrassing to talk about this, but I had an opportunity to attend the kick-in ceremony at the National Stadium as a one-day sponsor.
I didn't know that I shouldn't be wearing leather shoes onto such sacred grounds, but I actually wore brand new shoes for the ceremony which made me the butt of jokes among our employees and supporters (laughs). Although it was just a simple kick which I needed to do, I went to the trouble of getting new shoes for this purpose and earned myself a reputation for being a nice guy who went out of the way for something trivial.
Yagihara I think this makes you more endearing to the supporters, though!
Katsuki To us, we were very happy when our junior team got to the Nationals, and were able to show off the Edo Matsuri ningyo-yaki on the chests of their uniforms to the entire nation. The photo taken at the time was displayed by SHOEI at their shops in the airports and train stations, so we were very thankful for that.
Yagihara If the junior team continues to do even better, that means more exposure for the Edo Matsuri ningyo-yaki.
Katsuki Precisely. There are many promising players in the junior team, so we want to see them do their best and get even better in the future.
Yagihara Last but not least, let's hear from Mr. Higasa, who will be taking over after Mr. Katsuki, and take charge of SHOEI in the future!
Katsuki It has been two years since I worked with SHOEI. The most memorable and happiest thing for me was feeling like I was part of the team when I helped out at the booth during match-days.
Higasa There are two examples I would like to cite. First of all, I think it's great to spend so much resources on nurturing our youth team and bringing the ningyo-yaki to them. I come from Kagawa Prefecture, but when asked about our signature souvenir, I can't think of anything. Hence, for people who were born in and live in Tokyo, it's important to know about ningyo-yaki, or else it would never be regarded as a signature souvenir that represents this region. I hope to be able to help in materializing this in the future.
Another thing is, we are a general club representing Tokyo and aiming to become a club that can represent Japan. From now on, we will advance our business towards the overseas markets, and SHOEI is doing the same thing as well, so I hope that we can have opportunities to work with them overseas as well.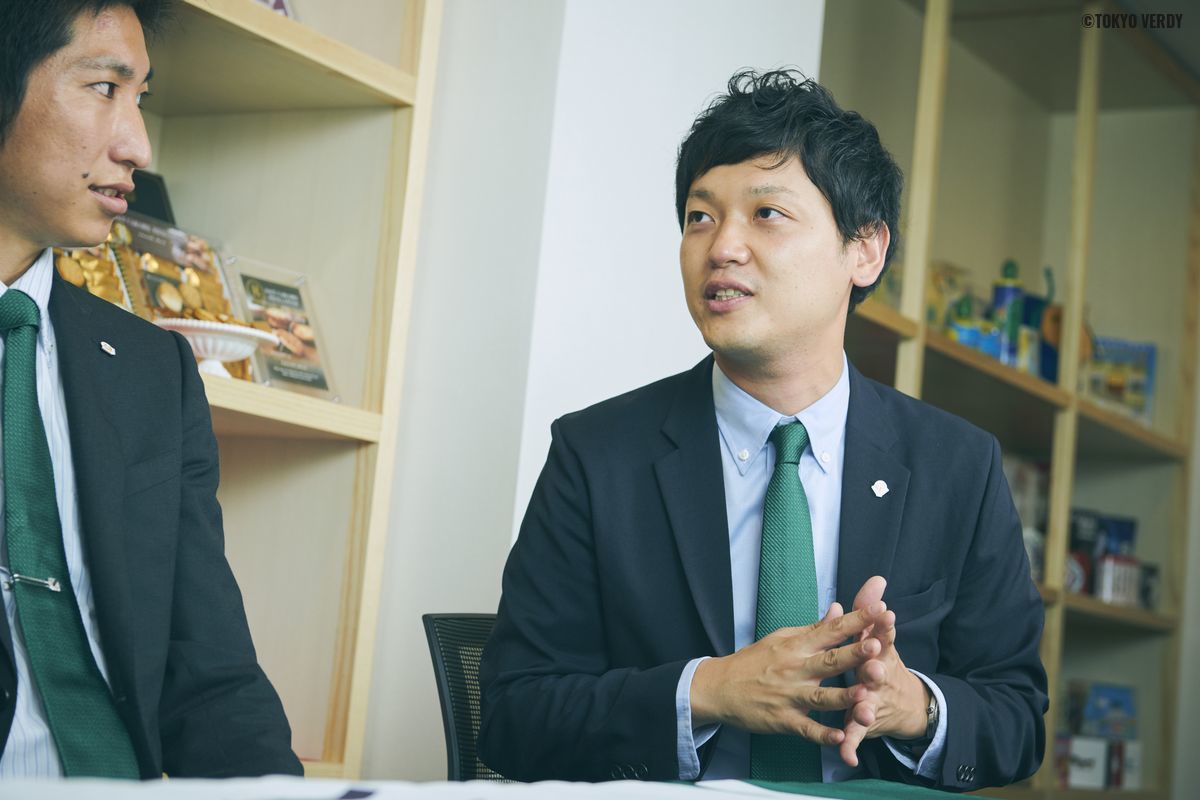 Mori Thank you very much. I hope that we can work together in various things going forward.
Yagihara Today has been a great session where we shared many ideas. Thank you again for your time!
Katsuki Thank you very much!
Higasa Thank you very much and we look forward to your continued support in future!
Yagihara Thank you to the both of you! We were able to hear from Mr. Mori about how to maximize Verdy's value in the market, and how his company was able to continue supporting the team and the value of this decision.
It's great to see how the measures between the partner and the club could translate to quantitative effects on the business, and I think we can come up with even better ideas in the future to take on challenges in business activation.
Writer: Shimon Watanabe / Photographer: Masato Ishibashi