No. 3: Xtra, Inc. and Tokyo Verdy
To all the partners of Tokyo Verdy who have been supporting our club in various ways for your own special reasons: We hope to go beyond the relationship framework we have had with our sponsors, and build a community in the future where the club and our corporate partners can walk hand-in-hand together.
This project, entitled "ONE FLAG: Creating new value with our corporate partners," allows comrades of the Verdy family to come together and discuss their thoughts and feelings about the future. In this way, we can share our ideas with one another and look towards a future that we can build together.
For the third installment of this series, we are featuring Xtra, Inc., our translation partner who has been assisting us with the multilingualization of Tokyo Verdy's official website and match reports.
Joining us for this interview are Mr. Naoki Yamada (in the photo, center), director of Xtra, Inc., who feels that it is meaningful to continue with the multilingualization, and Mr. Yudai Suzuki (in the photo, right) from the partner sales department of Tokyo Verdy, who strongly believes in the need to convey information about the club to the world.
Our facilitator is Taito Yagihara (in the photo, left) from re-trigger Co., Ltd., another one of Tokyo Verdy's corporate strategy partners. The interview will be about what made them become partners, its impact, and their visions for the future.
(Name honorifics are omitted going forward)
The meaning of conveying information regularly in multiple languages
Yagihara: Thank you for being here today! Through these interviews between the club and its partners, we hope to share to the public what our partner is thinking of as they work together with Verdy. Hence, we are doing a series of interviews for the club and its partners in order to achieve this. This interview with Xtra, Inc. is the third installment.


Anyway, I think even our supporters might not know our club's corporate partners well, so shall we begin by talking about this?
Yamada: First of all, we just started using the name Xtra, Inc. from the 1st of March this year. Before that, we were known as anydoor Co., Ltd., one of Verdy's partners. Our main business has always been the same, that is, to match people who want work with those who need people to do work for them. We have a crowdsourcing service business which operates under the name "Conyac."

Recently, we have ventured into a separate business, which is the automatic translation service Qlingo, and we also provide such automatic translation services through our parent company and agency business. Essentially, we are a company that provides language services.
Yagihara: Thank you very much. I understand that your company supports Verdy as a supplier, so what makes this role different from the usual sponsor?
Suzuki: For companies who wish to support Verdy and Beleza but do not have the budget for advertising placements, if your corporate strengths in your business domain match our weaknesses, you can support us by providing your products or services as suppliers.


In Xtra's case, they work with us as a translation partner by providing translation services at no cost.
Yagihara: I see, thank you very much for your explanation. Well then, please tell us how Xtra joined as a supplier!
Yamada: What started things going was our shareholder, Skylight Consulting (entered business partnership with Tokyo Verdy from the 2015 season and became the latter's corporate partner), who introduced us to Verdy about 2 years ago.


While discussing with Suzuki what we could do together, Verdy mentioned how they wanted to increase the number of foreign visitors to their games. To reach these overseas audiences, we provided our multilingualization abilities to help fulfill those needs.
Yagihara: By how much did the number of foreign visitors actually increase?
Suzuki: Our official website statistics show a lot of access count from North America, Europe, and Southeast Asia.


In the past couple of years, it was often mentioned that there is an influx of overseas visitors. Since our team is based in Tokyo, which also happens to be Japan's capital city, we felt that there was a need for us to come up with something that could convey information in multiple languages.


Just 2 years ago, in the 2017 season, we had a Spanish coach, Miguel Ángel Lotina, so we anticipated that there would be people of various nationalities visiting our website. We wanted to try sharing our information in English, which is the commonly used language in the world, and this is how we came to ask Xtra to help us out.
Yagihara: Planning ahead for the future seems to be effective. Are there any other similar arrangements like this to provide translation services to the sports teams?
Yamada: Although we do have one-off translation jobs, this is the first time that we are doing it on a continuous and regular basis. However, if we treat the translation and multilingualization transmission as a mere conversion of the website's content between languages, then visitors would simply visit the website once and not have the inclination to return.


As such, it is important to update the multilingual aspect of the social media accounts and website regularly as well, so that's where we come in to offer assistance on a continuous basis.
Yagihara: I see. When Skylight introduced you to Verdy in 2017, what kind of expectations and thoughts did you have?
Yamada: At first, I think both parties were somewhat doubtful of what we could do for each other (laughs). Actually, it took us about half a year just to decide what to translate and from which channel: website, or social media?
Yagihara: What made you decide to give it a shot after the six months of discussion? I hear that there are many companies who may be interested in becoming supporters but cannot go ahead without getting internal approval.
Yamada: We tried to formulate a hypothesis of how a deal would bring about particular effects. From there, we obtained market data and compared them with figures from other companies before proposing the idea internally in our own way. Of course, a budget was needed, but we thought that we could get started based on what we had.
Yagihara: To come up with credible figures for the hypothesis must have been very difficult.
Yamada: It definitely was (laughs). In particular, the part about what we could provide to sports and how this would tie in with revenue was tough. For example, for Verdy's sponsors, it would be easy to say that this was to increase awareness about their companies, but for a business like us with no relation to sports, it would be difficult to make a connection with actual figures. As such, we had to look at this from a long-term perspective.


However, if you are a B2B company, and since Verdy is a longstanding team with a rich history, we believe that it can result to a good performance just by providing them with something.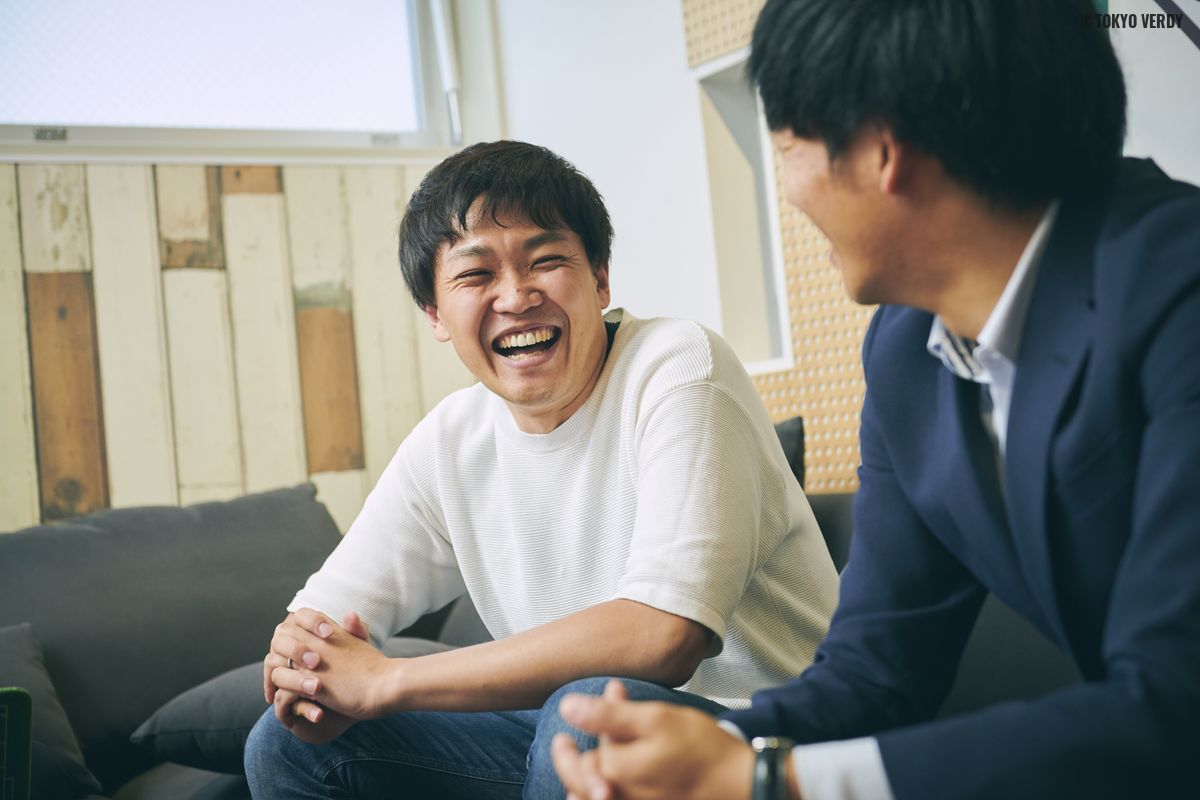 Yagihara: Oh! So, was there actually such a case?
Yamada: Well, the things that we translate every week get published on the website as they are, so it is a good showcase of the quality of our work to people such as those in sales.
Yagihara: Yes, the actual results from the work done becomes tools for creating sales and achieving the intended advertising effect.
Yamada: We have increasingly heard from our customers that they have come to know the fact that we are doing translations for Verdy. In fact, our sales team has encountered situations when they meet clients who are Verdy fans, so the conversation gets livelier as a result. We think that this continuity in providing such services to Verdy does have a huge impact.


We are definitely grateful to be able to appear on the website of a club with such a rich tradition. We feel that we are actually deriving more value from this partnership beyond the translations we are doing.
Yagihara: That's a really nice thing to hear!

Conveying information with a sense of purpose
Yagihara: Specifically, what is it you are doing right now, the translation of the official website?
Yamada: Yes, we started with the English translation of the contents of the official website, such as match details, comments, and interviews of the players which are uploaded by the following Wednesday after the match days.
Yagihara: That's pretty timely! Has anything changed in the 2 years since you started doing such translations?
Yamada: Since we do it on a weekly basis, it became much easier. At first, it was difficult to turn things around so quickly, but since the translators got used to it, their translation speed has also increased. And since our registered translators come from various countries around the world, there were differences in nuances and writing styles. This eventually got standardized since we work with a fixed pool of translators now.


For our translators, they do this as a form of support for Verdy's PR efforts, so this clear sense of purpose seems to be contributing to a boost in their motivation as well. We would like to think that our company has provided some good work for them.
Yagihara: That's such a wonderful win-win relationship! It's a nice example of how providing support contributed to the increase of speed in the business.
Yamada: And since Japan would need a lot of multilingualization services as the 2020 Olympics approaches, the demand from various websites and shops to translate the content on their websites in multiple languages is hardly being met at the moment. As such, we think that it's good that Verdy managed to get a head start in this area through our collaboration.
Suzuki: Nowadays, it is not just us, but many other J League clubs are offering English versions of their homepages, and conveying their information in foreign languages. As Verdy has a clear vision in conveying its information to the world through the partnership with Xtra, we think that we can continue to deliver excellent content going forward.
Yamada: Now that we are on this topic, we are still in the planning stage of the translation of the social media channels. It would be great if we can work out something in this area in the near future.
Yagihara: Do you mean something like an English-version Twitter page?
Yamada: That's right. Other than text, it would be nice if we can also do it in photos and videos. Instagram would be a great option to explore as well.
Yagihara: That definitely sounds fantastic! Although there are those who spend time scrutinizing the website, social media allows people to communicate in a timelier and more familiar manner.
Yamada: Of course, there is also the part of how we can expand our reach for people who want to get information easily. Most foreign sportsmen use Instagram and have a significant number of followers, so it would be great to benchmark against such portals.


For example, by analyzing the content of tweets from players with many followers, we can see what the best method is to convey information and make it a common knowledge for everyone.
Suzuki: That is definitely a challenge worth taking on especially when it comes to the individual marketing of players!
Yagihara: There are many foreign clubs and players who give a lot of effort in managing their social media channels to provide high-quality content. What do you think is the huge difference between them and Japan?
Yamada: I think that this is probably a system issue. Especially in America, there are dozens of social media networking teams, or they can outsource to specialized companies, and such places are systematic. In Japan, social media is only viewed as a part of public relations activities. The stance adopted overseas is for the club team as a whole to convey the information.
Yagihara: When a company like Xtra who specializes in providing such services joins forces with Verdy, we can probably achieve the same effects on social media as our foreign counterparts.
Yamada: I agree! However, it is difficult to establish such a system. Even for our company, we do use social media to convey information. However, when multilingualization comes into the picture, labor hours also increase with every new language, so we also need to think of the costs. Since there is no short-term revenue tied to this, advance investment has to be made.


Unlike TV commercials, social media has the ability to increase influence slowly and go viral, so you need to spend time to make it work out.
Yagihara: Let's move on to another topic. Is there anything that you wish to see from Verdy? For example, any request for them to do something?


Yamada: It would be great if the help we provide will lead to financial gain in the end. I think by having more foreign visitors come to the stadium, this might be achievable.


In the end, even if we do manage to increase awareness, but it doesn't lead to financial gain, what we are doing would not amount to anything big. I think it's still important to have a link between attracting visitors and profitability.
Yagihara: Are there any specific numbers on how many foreign visitors come to the stadium?
Suzuki: It's difficult to come up with specific numbers. However, based on what we are seeing at the moment, it doesn't look like there is any obvious effect leading to increased visits to the stadium.
Yagihara: It would be good to conduct such an investigation in future, right?
Suzuki: That's true. We shouldn't use the excuse of how the numbers haven't translated to anything yet, but look at access count from overseas in quantitative terms. If this information is not actively utilized in our marketing efforts, it would be meaningless.

Spending the next 50 years with Tokyo Verdy
Yamada: What kind of events does Verdy have in mind for the 2020 Tokyo Olympics?
Suzuki: We don't have any specific plans in terms of events, but we do have a lot of players who are potential Olympic representatives. I think that this will be an unprecedented chance for us.


In particular, from NTV Beleza, we had 10 players selected to be part of the team that took part in the FIFA Women's World Cup held in June this year, and our players make up about half of the current women's national team.


When the Olympics take place next year in Tokyo, our players will be selected as representatives again and get to play in Tokyo during such a major sporting event. It's a rare opportunity for us to increase the club's value along with these top players.


Of course, this is not just limited to Beleza, since Verdy also has a number of potential Olympic representatives, so we hope to do the same with them as well.
Yamada: That's great, and it sounds exciting!
Yagihara: Then we should start thinking of measures to achieve this goal!! But first, we have to look at the World Cup, because it also attracts a lot of attention from overseas.
Suzuki: That's exactly the case. For example, didn't FC Barcelona come to Japan for a tour this summer? We hope to achieve a women's version of that by turning Beleza into a team that would be invited on overseas tours to places like Europe and America. If that happens, I think that we'll definitely need the ability to convey information in English more than ever.

If we manage to do that, we can probably enter the ranks of other global clubs in the world. Hence, this is the next phase we hope to bring the club to.
Yagihara: Gaining fans on such expedition tours and having them come to Japan would be a wonderful scheme to bring in more visitors! Then, what would you like to take on as a challenge together in your partnership going forward?
Yamada: It may sound like I'm repeating myself, but I think we should come up with measures to link our work to actual profitability. There are many ways in which multilingualization can contribute, such as, first of all, measures to get foreign visitors to actually visit the stadium, and making sure that they will have a hassle-free experience when they actually make the visit. We hope to be able to work towards that slowly and progressively.


Of course, there is a business side to sports, so if the business does not hold up, good players cannot get supportive partners. Hence, I believe this aspect is very important.
Yagihara: This question is directed to Verdy this time: what do you think Xtra can provide?
Suzuki: This year is our 50th anniversary, so Tokyo Verdy's story for the next 50 years will include plans to work with various overseas clubs. At the moment, we are already working with AC Ajaccio from France, and SD Eibar from Spain.


From now on, we will continue to engage in negotiations with teams from various countries in Europe and Asia to create an active environment for us to go on overseas expeditions, and for them to come to Japan.


And that is where Xtra can definitely be of help, not just in terms of providing translation services but ideally, to also be the pillar of multilingual transmission of information. It will be great if this all leads to bringing in more visitors for the clubs.
Yamada: I think we can try to do the same for other sports and venture beyond soccer in providing such support services.
Suzuki: That's right! Actually, I should have been the one saying that (laughs). Tokyo Verdy Club already has many players who are active not only in Japan but also overseas.


For example, triathlon athletes take part in overseas races on their own. To promote such athletes, Xtra provides help such as formulating measures to manage their social media postings, which can then create more fans for the athletes. It's enough to just collaborate with each other to achieve the intended purpose.
Yagihara: If we think about it beyond the point of view of just soccer, there are definitely various areas where Verdy can ask for help to work together.


With this in mind, is there any likelihood of changing your current status as a supplier to a sponsorship partner in future?
Yamada: I think it is highly likely, and it would be great to continue with a win-win relationship for both parties.
Yagihara: Last, but not least, although we have been talking about plans towards 2020, what kind of vision do you have in mind post-2020?
Yamada: Ultimately, multilingualization and inbound visitors are merely checkpoints into 2020. If Japan is no longer in existence, there would be no foreign visitors.


I think the Japanese sporting scene will continue to grow, so it makes sense to continue extending our support on a regular basis.
Yagihara: That's definitely the case. Continued support will lead to profits and create a win-win world for both parties, so let's think about what to do in future together. Thank you very much for today!
Suzuki: Thank you very much!
Yamada: Thank you very much!
Yanagihara: Thank you so much to the both of you. Mr. Yamada gave some tips on how to create a win-win relationship with Verdy.

By working together with Verdy, performance became tools to bring in sales, and we were able to see one ideal image connected to the business. If this spreads to other partners and brings about a domino effect, then the entire industry will become better as a whole.
Writer: Shimon Watanabe / Photographer: Masato Ishibashi